Summary
Current Position: US Senator since 2011
Affiliation: Republican
Building on a background as a public servant, university president, and teacher, Roy Blunt was elected to the United States Senate in 2010.
Senator Blunt serves as the Chairman of the Senate Republican Policy Committee and as the Chairman of the Senate Rules Committee. He also serves on the Senate Appropriations Committee; the Senate Commerce, Science and Transportation Committee; the Senate Select Committee on Intelligence; and the Senate Rules Committee. He is also the Chairman of the Appropriations Subcommittee on Labor, Health and Human Services, and Education.
Source: Government page
News
COLUMBIA, Mo. (KY3) – U.S. officials are struggling to speed up the pace of evacuations in Afghanistan. The State Department does say it expects a major increase in the number to be airlifted soon.
Tensions are high outside the airport in Kabul after a video surfaced earlier this week showing families passing their children over walls and into the arms of soldiers in an effort to get them to airports.
During a visit to Columbia earlier this week, Missouri U.S. Sen. Roy Blunt was critical of the withdrawal of U.S. troops from Afghanistan.
"I'm not sure that a withdraw date would have been a good idea. I mean we've been in Germany for 75 years so the idea that we can't stay somewhere in a relatively safe situation after you have entered a country and tried to make some changes is antithetical to everything we've always done."
Twitter
About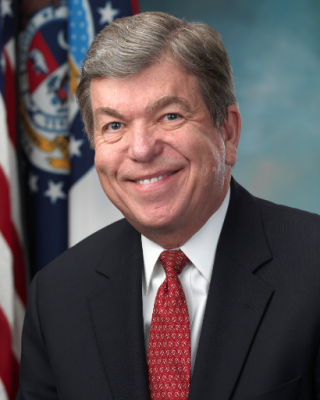 Source: Government page
The people of Southwest Missouri overwhelmingly elected Senator Blunt seven times to the U.S. House of Representatives. Senator Blunt was elected the Majority Whip earlier in his career than any Member of Congress in eight decades, and he was elected to the Senate leadership during his first year in the Senate. Before serving in Congress, he was a history teacher, a county official, and in 1984 became the first Republican elected as Missouri's Secretary of State in more than 50 years. Senator Blunt also served four years as the president of Southwest Baptist University, his alma mater, in Bolivar, Missouri. Senator Blunt earned an M.A. in history from Missouri State University.
Senator Blunt is a member of the Smithsonian Council for American Art and is a Trustee of the State Historical Society of Missouri. Senator Blunt is also a member of the Kennedy Center Board of Trustees.
The Senator is married to Abigail Blunt and has four children: Matt Blunt, Amy Blunt, Andy Blunt, and Charlie (age 16). Blunt has six grandchildren: Davis Mosby, Ben Blunt, Branch Blunt, Eva Mosby, Allyson Blunt, and Brooks Blunt.
Web