Summary
Current Position: US Representative for MO District 7 since 2011
Affiliation: Republican
William Hollis Long II (born August 11, 1955) is an American auctioneer and politician serving as the U.S. Representative for Missouri's 7th congressional district since 2011. The district includes much of the southwestern quadrant of the state and is anchored in Springfield. It also includes Joplin and Branson.
A member of the Republican Party, Long was elected to fill the district's vacant seat in the 2010 after Roy Blunt was elected to the U.S. Senate.
Source: Wikipedia
News
The delta variant continues to surge in the U.S.. The country is now experiencing more than 100,000 new infections a day. One of the places hit particularly hard is Missouri, where only 42 percent of eligible people are fully vaccinated, while the state has recorded more than 20,000 new cases during the last seven days. Republican Missouri Rep. Billy Long joins William Brangham to discuss.
Read the Full Transcript
Twitter
About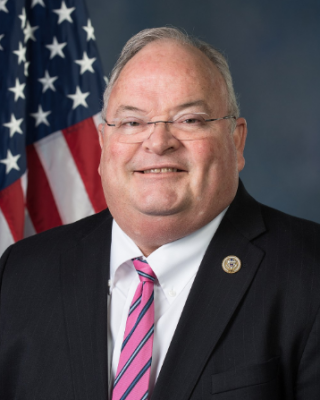 Source: Government page
Congressman Long was born and raised in Missouri's 7th Congressional District where he proudly serves his constituents today.
Congressman Long has always believed we need more lawmakers in Washington, D.C. with real-world experience. He owned and operated auction and real estate businesses in southwest Missouri before running for office.
Voted 'Best Auctioneer in the Ozarks' 9 years straight, it's no surprise he has been inducted into both the National Auctioneers' Association Hall of Fame and the Missouri Professional Auctioneers' Association Hall of Fame. His motto in the Auction business was "When you want it done right" and that attitude holds today. While he's known for his unconventional, out of the box thinking, it all gets back to trying to do his best whether that's selling grandma's antiques or negotiating with his colleagues on Capitol Hill for the best outcome for his constituents. He's known for his good nature and humor in Washington which both serve him well when negotiating with colleagues on the other side of the isle.
For six years, he co-hosted the top rated morning drive time radio call in show 'Morning Line' with his co-host Bonnie Bell' in Springfield on AM560 KWTO "Keep Watching The Ozarks" – which covered 95 counties and part of four states. Engaging with folks for 30 years while booking auctions, selling real estate and taking their calls on air gave him a vast knowledge of what was on folks minds and what was important to them.
Billy has always believed that the principles of life, liberty, freedom and the power of the individual are values that we need to protect. As a result of his conservative track record, he has received countless awards from organizations such as the American Conservative Union, FreedomWorks, the National Federation of Independent Businesses, Safari Club International and the U.S. Chamber of Commerce. As the awards continue to pile up, he considers the true reward is being in a position to help people.
Congressman Long sits on the House Energy and Commerce Committee where he serves on three crucial subcommittees: Communications and Technology, Health, and Oversight and Investigations.
A few of Congressman Long's legislative priorities and accomplishments are listed below.
Protecting Table Rock Lake homeowners
Congressman Long has introduced legislation aimed to protect homeowners on Table Rock Lake from being forced to remove existing structures due to the Army Corps of Engineers boundary lines changing over time.
Reducing Diesel Emissions
Congressman Long worked across the aisle with Congresswoman Doris Matui to reauthorize the Diesel Emissions Reduction Act (DERA). DERA has proven to be a cost effective way to reduce harmful emissions from old diesel engines.
Stopping Bad Robocalls
During the 116th Congress, Congressman Long and his colleagues on the Energy and Commerce Committee worked to bring H.R. 3375 (Stopping Bad Robocalls Act) to the House floor – legislation that expands protections for consumers, increases the length of time the FCC can catch illegal robocallers and allows the federal government to issue penalties up to $10,000 per violation.
Rural Broadband Deployment
Congressman Long has championed legislation aimed to strengthen Internet access in rural and other underserved areas by promoting more Internet Exchanges across the country.
Congressman Long worked with Congressman Donald McEachin, Congressman Dave Loebsack, and Congressman Bob Latta to pass legislation that improves the accuracy of broadband maps throughout the nation. A key first step in the buildout of rural broadband infrastructure
Suicide Prevention
Congressman Long worked with Congressman Emanuel Cleaver on legislation that would give states funding for emotional wellbeing, mental health and suicide prevention training for school personnel in elementary and secondary schools.
Web
Government Page, Campaign Site, Twitter, YouTube, Facebook, Wikipedia