Summary
Current Position: US Representative for MO 7th District since 2021
Affiliation: Democrat
Cori Anika Bush (born July 21, 1976) is an American politician, registered nurse, pastor, and activist serving as the U.S. Representative for Missouri's 1st congressional district. The district includes all of the city of St. Louis and most of northern St. Louis County.
A member of the Democratic Party, on August 4, 2020, Bush defeated 10-term incumbent Lacy Clay in a 2020 U.S. House of Representatives primary election largely viewed as a historic upset, advancing to the November general election in a solidly Democratic congressional district. Bush is the first African-American woman to serve in the U.S. House of Representatives from Missouri. She previously ran in the Democratic primary for the district in 2018 and the 2016 U.S. Senate election in Missouri. She was featured in the 2019 Netflix documentary Knock Down the House, which covered her first primary challenge to Clay.
Source: Wikipedia
News
BEMIDJI, Minn. (AP) — Four congressional Democrats who are part of the progressive "Squad" and want President Joe Biden to stop construction of the Enbridge Line 3 oil pipeline traveled to the shores of the Mississippi River to make their plea.
Reps. Ilhan Omar of Minnesota, Cori Bush of Missouri, Ayanna Pressley of Massachusetts and Rashida Tlaib of Michigan were spending the holiday weekend visiting Bemidji and other parts of northern Minnesota to speak with members of Indigenous communities and others who have been protesting the project.
Line 3 starts in Alberta and clips a corner of North Dakota before crossing Minnesota en route to Enbridge's terminal in Superior, Wisconsin. The 337-mile (542.35-kilometer) line in Minnesota is the last step in replacing the deteriorating pipeline that was built in the 1960s.
"We have been encouraged by Joe Biden's boldness so far," Omar said, referencing his January decision to cancel a border-crossing permit for the Keystone XL pipeline that would have carried oil from Canada to Nebraska. "Now we have another chance to reject a moving pipeline. We hope you will act."
Twitter
About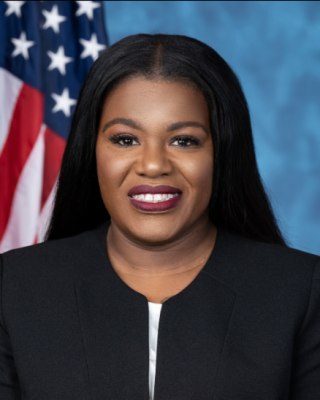 Source: Government page
Congresswoman Cori Bush is a registered nurse, community activist, organizer, single mother, and ordained pastor for the people of St. Louis. Congresswoman Bush is serving her first term as the representative of Missouri's 1st Congressional District in the United States House of Representatives. She is the first Black woman and first nurse to represent Missouri; the first woman to represent Missouri's 1st Congressional District; and the first activist from the movement fighting for Black lives elected to the United States Congress.
Congresswoman Bush has lived the struggles that many in her community face. She has personally experienced being unhoused and evicted and is a survivor of police, sexual, and domestic violence. She centers those hardships in her fight for regular, everyday people. Her mission is to do the very most for all of the people of Missouri's 1st Congressional District—starting with those who have the very least.
Born and raised in St. Louis, Congresswoman Bush graduated from Cardinal Ritter College Prep High School and studied at Harris-Stowe State University before receiving a nursing degree from the Lutheran School of Nursing. She has served her community for more than a decade as a nurse, clergy, and childcare worker. A relentless advocate for the unhoused community in St. Louis, Congresswoman Bush has spent years as a community organizer providing services and aid to her unhoused neighbors in the district.
In 2014, following the murder of Michael Brown Jr. by a now-terminated Ferguson police officer, Congresswoman Bush spent more than 400 days protesting for justice — leading on the 'Ferguson Frontline' as a nurse and clergy. During the day, Bush was responsible for providing triage-medical care and resources to the community that witnessed Mike Brown's body laying, uncovered, for four and a half hours in the hot St. Louis summer sun. In the evenings, Bush would return to march for justice — surviving police brutality in the process. In the years following, she continued her activism as a co-founder of The Truth Telling Project and as a leader of the protest group #ExpectUS.
Despite being the daughter of a local mayor and alderman, Congresswoman Bush never intended to run for office. Following the Ferguson Uprising, Bush was asked to run for office by community leaders. Although she initially rejected their requests, she pursued public office because she could not stand to see her son or daughter become hashtags of injustice without doing all she could to protect them. She intends to legislate in defense of Black lives to ensure no family has to fear that their loved ones may suffer at the hands of police. She also intends to center her experience as a nurse and as someone who's been uninsured to advance policies like Medicare For All to guarantee health care as a fundamental right for everyone.
Congresswoman Bush is the recipient of the 2015 "Woman of Courage" Award from the Emmett Till Legacy Foundation. In June of 2019, she was selected Top Nurse by the International Nurses Association. In October of 2020, the Jefferson City NAACP awarded Congresswoman Bush their prestigious "Trailblazer Award." In November of 2020, she received the Black Rep's Frankie Muse Freeman Spirit Award.
Like our nation's first Black congresswoman, Shirley Chisholm, Congresswoman Bush is unbought and unbossed, following a campaign in which she took no corporate PAC money. She is accountable only to the people of Missouri's 1st Congressional District and will do all that she can to make sure every single person in her district, in our country, and around the world lives a decent life.
Web
Government Page, Campaign Site, Twitter, Facebook, YouTube, Wikipedia