Summary
Current Position: US Representative for MO District 5 since 2005
Affiliation: Democrat
Emanuel Cleaver II (born October 26, 1944) is a United Methodist pastor and American politician who has represented Missouri's 5th congressional district in the U.S. House of Representatives since 2005. The district includes the southern three-fourths of Kansas City, including all of the city south of the Missouri River, as well as the more rural counties of Lafayette, Ray, and Saline east of Jackson. Cleaver is a member of the Democratic Party, and chaired the Congressional Black Caucus from January 2011 to 2013.
Cleaver served on the Kansas City Council from 1979 to 1991, until he was elected mayor, serving from 1991 to 1999.
Source: Wikipedia
News
Democratic Rep. Emanuel Cleaver keeps hearing Missouri Republicans will try to redraw his Kansas City-area district to get him out of office.
He's starting to believe it.
"I hear that literally every day from somebody," Cleaver said. "So I guess I have to, at this point, assume that it's going to be a serious effort to alter the present construct of the Fifth District."
Democrats don't have much power over the once-a-decade drawing of new maps for the state's eight congressional districts. The Republican-controlled General Assembly, along with Republican Gov. Mike Parson, will approve new boundary lines.
That's made Democrats fearful Republicans will attempt to gerrymander the 5th Congressional District to deliver a partisan advantage and shrink the number of Missouri seats held by Democrats from two to one. It is forcing them to do the only thing they can do, at this stage in the process: sound the alarm to raise attention about the potential for gerrymandering.
The 5th District includes the western half of Jackson County, a corner of Clay County and a chunk of rural western Missouri joined together by a strip of land along the southern part of Jackson. It's an odd shape that makes the district a potentially attractive target for modifications.
Twitter
About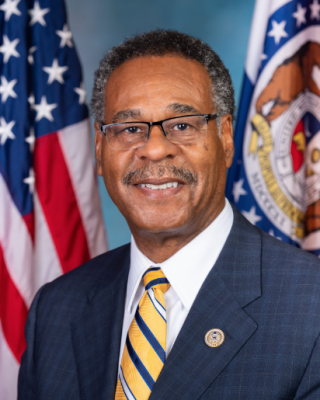 Source: Government page
Emanuel Cleaver, II is now serving his ninth term representing Missouri's Fifth Congressional District, the home district of President Harry Truman. He is a member of the House Committee on Financial Services; Chair of the Subcommittee on Housing, Community Development, and Insurance; member of Subcommittee on Investor Protection, Entrepreneurship, and Capital Markets; member of Subcommittee on Oversight and Investigations; member of the House Committee on Homeland Security; member of the Subcommittee on Transportation and Maritime Security; and member of the Select Committee on the Modernization of Congress.
Having served for twelve years on the city council of Missouri's largest municipality, Kansas City, Cleaver was elected as the city's first African American Mayor in 1991.
During his eight-year stint in the Office of the Mayor, Cleaver distinguished himself as an economic development activist and an unapologetic redevelopment craftsman. He and the City Council brought a number of major corporations to the city, including TransAmerica, Harley Davidson, and Citi Corp. Cleaver also led the effort, after a forty-year delay, to build the South Midtown Roadway. Upon completion of this major thoroughfare, he proposed a new name: The Bruce R. Watkins Roadway. Additionally, his municipal stewardship includes the 18th and Vine Redevelopment, a new American Royal, the establishment of a Family Division of the Municipal Court, and the reconstruction and beautification of Brush Creek.
Cleaver has received five honorary Doctoral Degrees augmented by a bachelor's degree from Prairie View A&M, and a master's from St. Paul's School of Theology of Kansas City.
In 2009, Cleaver, with a multitude of accomplishments both locally and Congressionally, introduced the most ambitious project of his political career—the creation of a Green Impact Zone. This zone, consisting of 150 blocks of declining urban core, has received approximately $125 million dollars in American Recovery and Reinvestment funds. The Green Impact Zone is aimed at making this high crime area the environmentally greenest piece of urban geography in the world. This project includes rebuilding Troost Avenue, rehabbing bridges, curbs and sidewalks, home weatherization, smart grid technology in hundreds of homes, and most importantly, hundreds of badly needed jobs for Green Zone residents.
During the 112th Congress, Cleaver was unanimously elected the 20th chair of the Congressional Black Caucus.
In 2016, as Ranking Member of the Housing and Insurance Subcommittee, Cleaver successfully co-authored the largest sweeping reform bill on housing programs in 20 years, the Housing Opportunity Through Modernization Act, a bipartisan comprehensive housing bill that passed into law with a unanimous vote.
In 2018, Congressman Cleaver received the Harry S. Truman Good Neighbor Award, the highest honor bestowed by the Harry S. Truman Good Neighbor Award Foundation. Past honorees include President Bill Clinton, the late Senator John McCain, and Justice Sandra Day O'Connor.
Cleaver, a native of Texas, is married to the former Dianne Donaldson. They have made Kansas City home for themselves and their four children, and grandchildren.
Web
Government Page, Campaign Site, Twitter, YouTube, Facebook, Wikipedia